First off, we would like to offer our sincere condolences to the victims of the recent terrorist attack.  Please let victims & witnesses know they are eligible for assistance through the FBI's relief for victims program.  
     Below we are compiling any substantial evidence we can find in relation to this senseless, atrocious, disgraceful act which was met with the best of humanity by many brave peoples' including officers' quick responses to the attack.  
      This page contains several pieces of evidence from the October 1, 2017 Las Vegas terrorist incident.  Please download any of the below videos using KeepVid.com or YouTube Downloader, then upload the video again in another location for the sake of eventually obtaining justice.
Notice!
All material throughout this website is presented in accordance with Fair Use.
Evidence #1
Plausible Motive Leaked on Sept. 11, 2017:
     On Monday, September 11, 2017, the following seemingly accurate leak was broadcast via 4chan by a user named "John":
Click to Enlarge: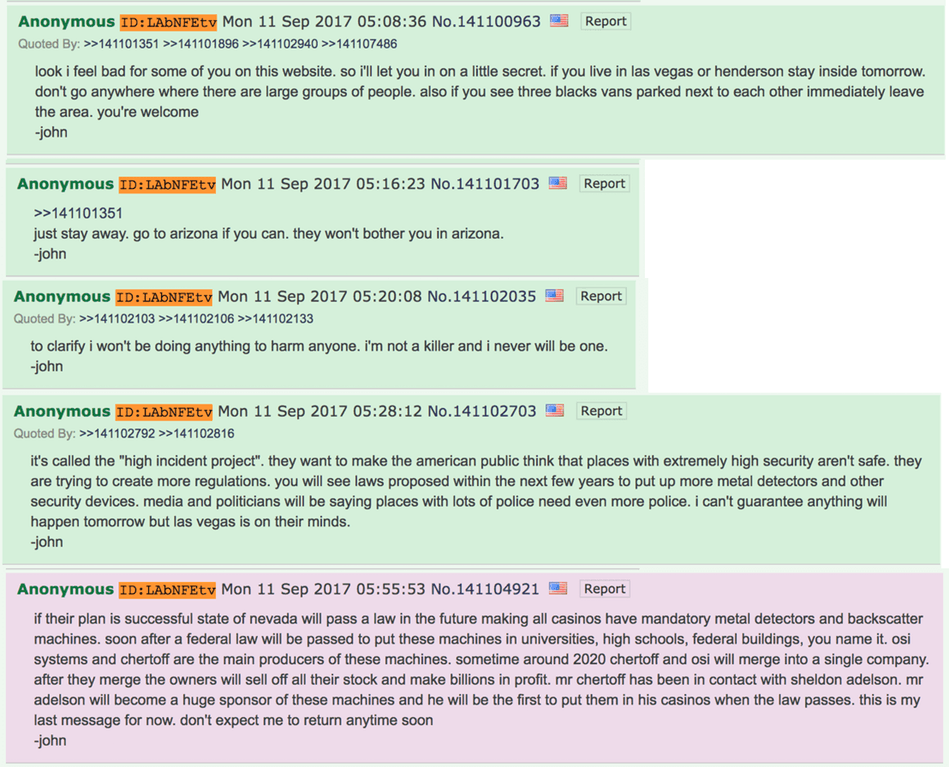 Brief Analysis:
   The terrorist attack did not occur until October 3, not long after the Sept. 11 warning if "

i can't guarantee anything will happen tomorrow but las vegas in on their minds.

"
     The most compelling part about this is that it provides a reasonable motive & line of reasoning wherein otherwise there is none.  Furthermore, the evidence implicates more than one individual whose estates would profit the most off the wave of new regulations: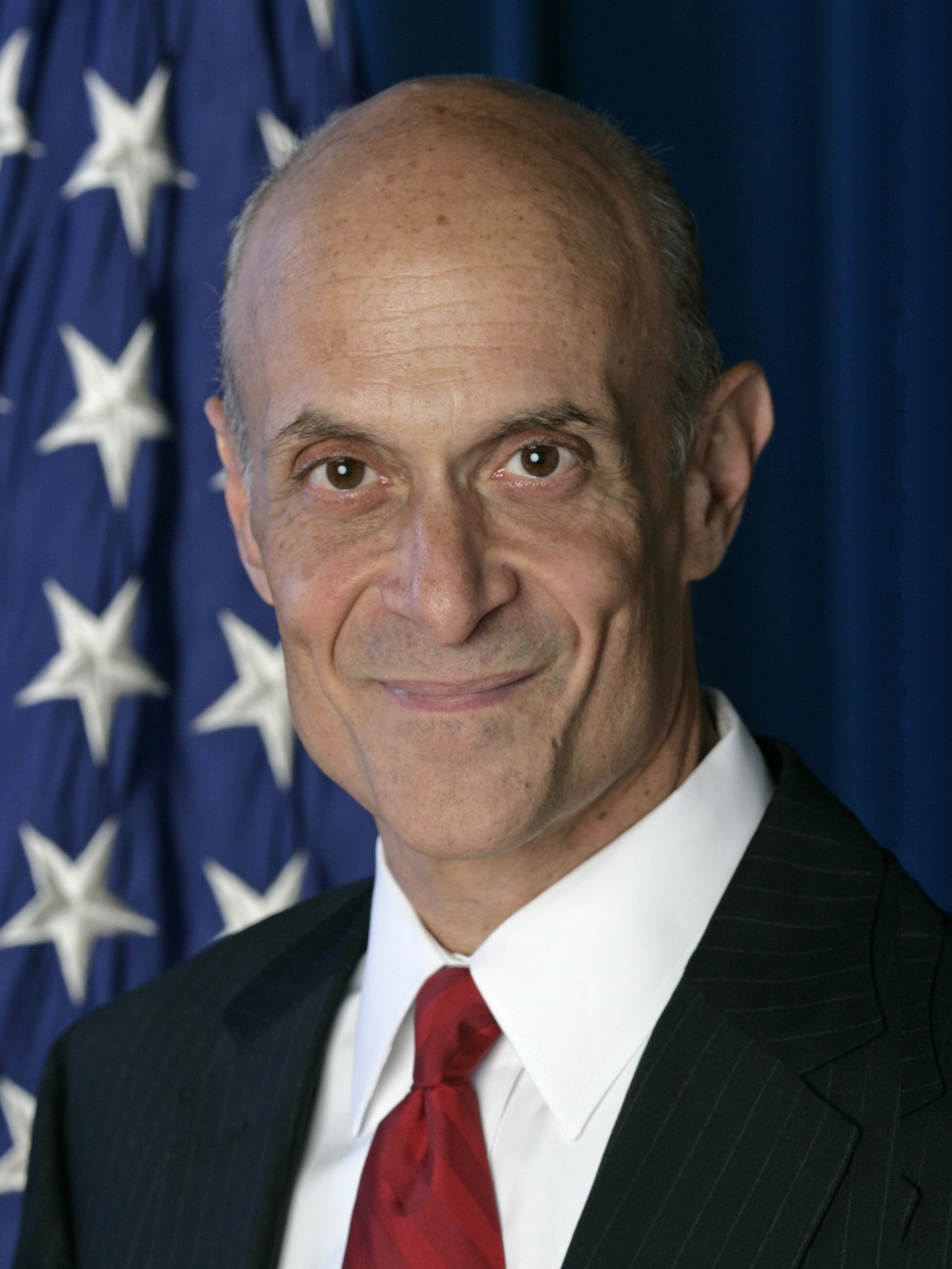 #2.) 
Sheldon Adelson is the chairman and chief executive officer of Las Vegas Sands Corporation, which owns the Marina Bay Sands in Singapore and is the parent company of Venetian Macao Limited, which operates The Venetian Resort Hotel Casino and the Sands Expo and Convention Center.  He also owns the Israeli daily newspaper Israel Hayom, and the Las Vegas Review-Journal.

 [2]

 He's also a major contributor to Republican Party candidates,

[3] [4]

having been the largest donor, of any party, in both the 2012 and 2016 presidential campaigns.  He was the largest donor to Donald Trump's 2016 presidential campaign with a total of $25 million.

[5]
Video Interview with Sheldon Adelson, "King of Casinos":
     The above possible leak also indicated that:
Screenshot from Article, Click to Enlarge: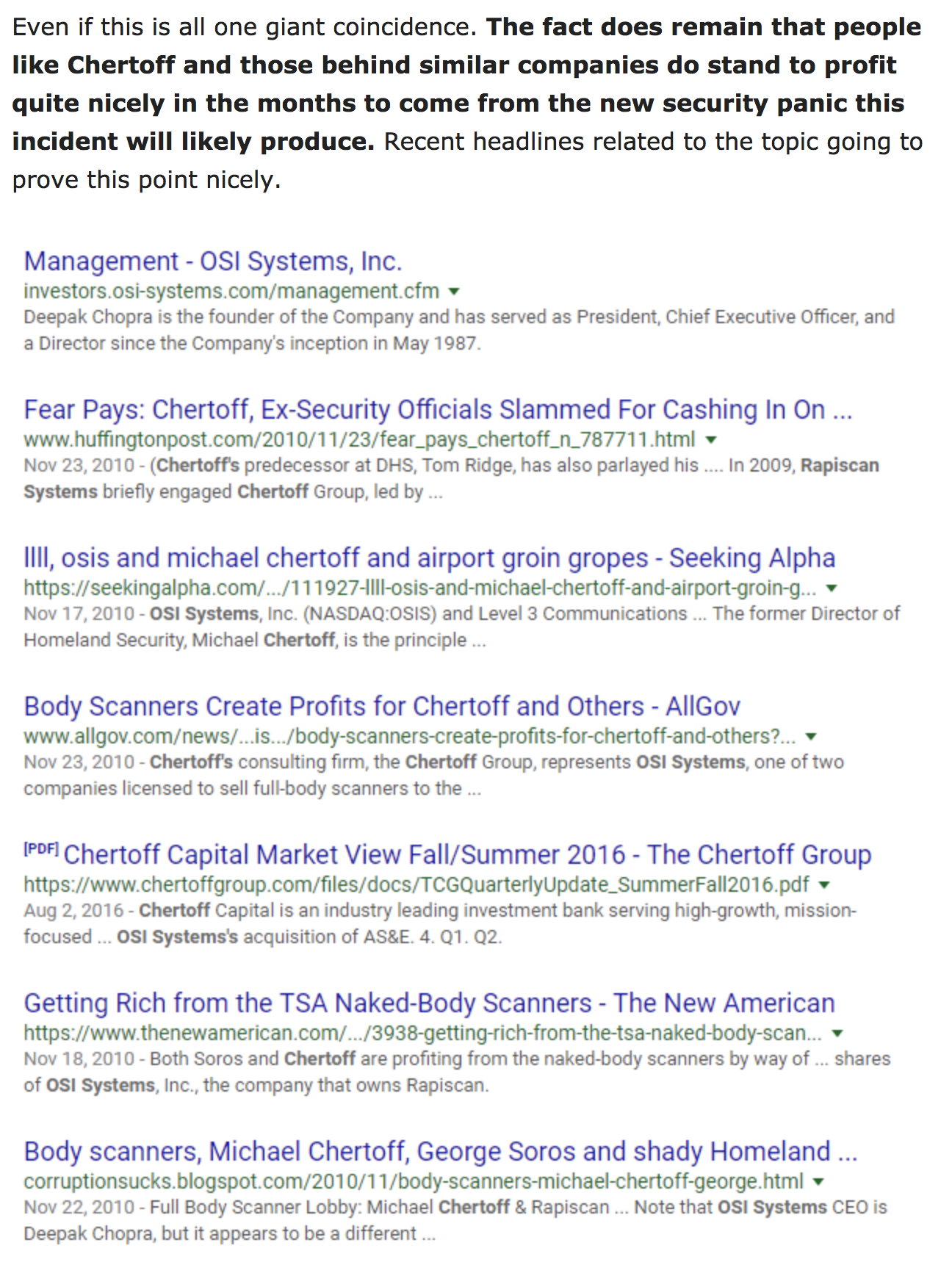 Screenshot of NASDAQ from Oct. 6, 2016:
Click to Enlarge: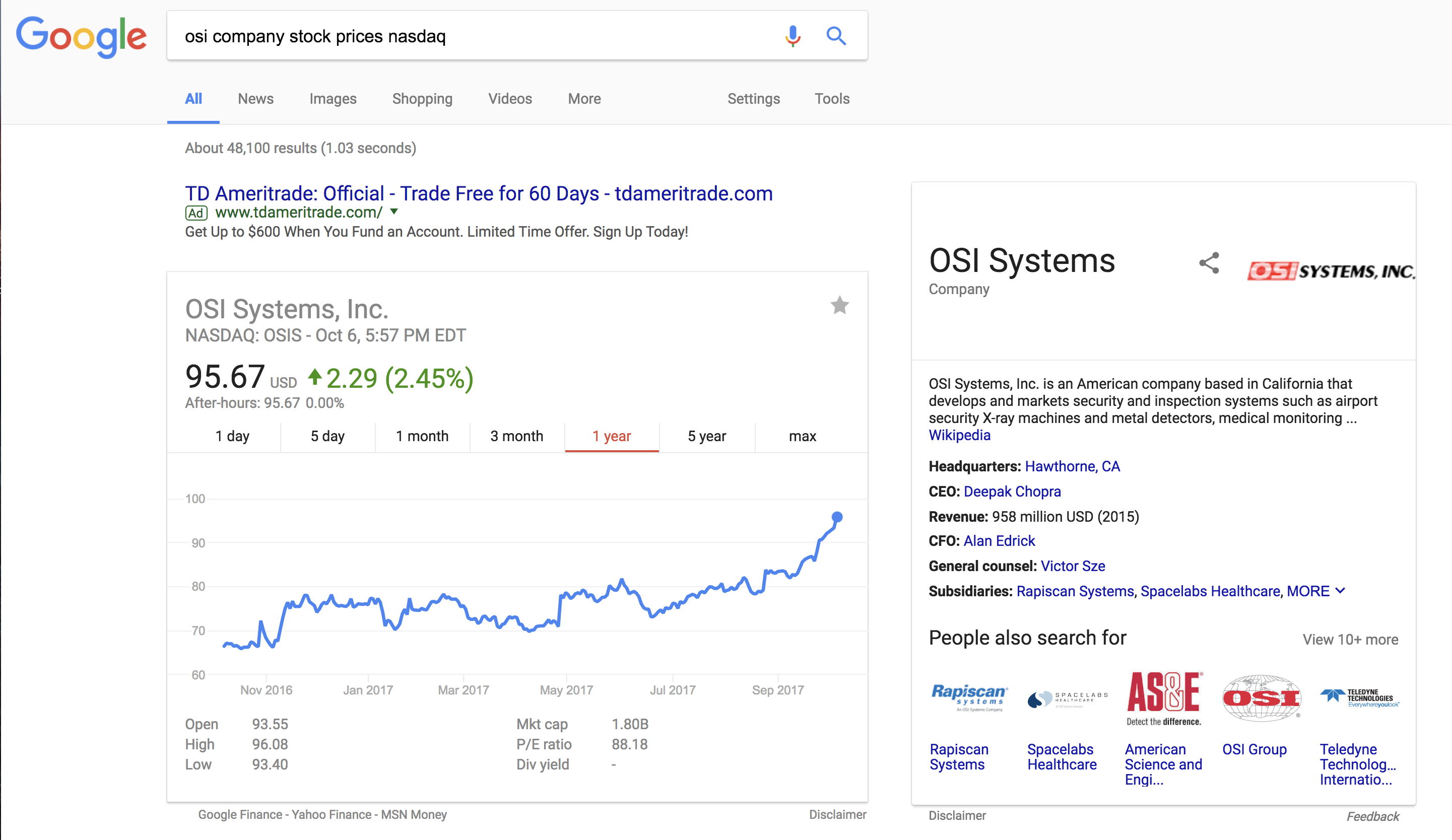 We'll get back to this soon.  First let's take a look at additional evidence, including several eye-witness reports of "multiple shooters including gunmen inside

several

casinos" and several pieces of footage which help validate these accounts:
Evidence #2
Footage of On-The-Ground Shooter:
rapid gunfire is heard in the video which is in sync with the firing of the man's weapon.
people in the crowd jump to the ground (ducking for cover) in a trajectory away from the gunfire.
Footage begins at 0:40:
Evidence #3
Audio of Multiple Shooters:
      In this next video, published by Lisa Fine on Oct 2, it is evident that more than one gun firing from two different locations, at two different distances from one another (one is clearly further away), at 2:05.  The noise from the second gun cannot be an echo, because within several other places throughout the video where there is the sound of gunfire, there is no echo.
Sound of two guns firing at 2:05:
Evidence #4
Witness Testimony of Multiple Shooters:
     This video, uploaded   Gianna Peponis, shows footage of a couple giving firsthand testimony as to what they witnessed.  The woman claims that "

there needs to be some sort of policy so where when this stuff happens, there's someone right there to help

".  She goes on to say "there was definitely someone on the ground (shooting)" and that "we started running, & they (the shooters) came in.  There is no way that 

that guy

 (she points to Mandalay Bay)

was the only shooter"

:
Evidence #5
Local On-Scene News Report Cites Multiple Shooters:
     This next local news report indicates several pieces of pertinent information.  At the beginning, there is a short clip which shows someone's comment "

OMG someone just started shooting an M16..

.".  The screen reads that this is occurring at MGM Grand Hotel & Casino, which is a different location than the Mandalay Bay Casino

(there are multiple reports of shootings at multiple casinos)

.   0:20 the reporter states: "

there was an active shooter situation which reported 3 shooters with automatic weapons, both in the concert and from shooting victims inside the hotel, on the 29th, 32nd, & 35th floors.  A security guard was shot in the leg on the 29th floor.  An officer was shot in the shoulder out on the Las Vegas Boulevard area…

"
Evidence #6
Video Evidence of More Than Shooter:
     Here you will here an automatic weapon firing from two locations, which the cab driver witnessing filming explains:

Evidence #7
"7 Confirmed Shooters" at "Multiple Hotels", including Bellagio, the Aria, and New York New York":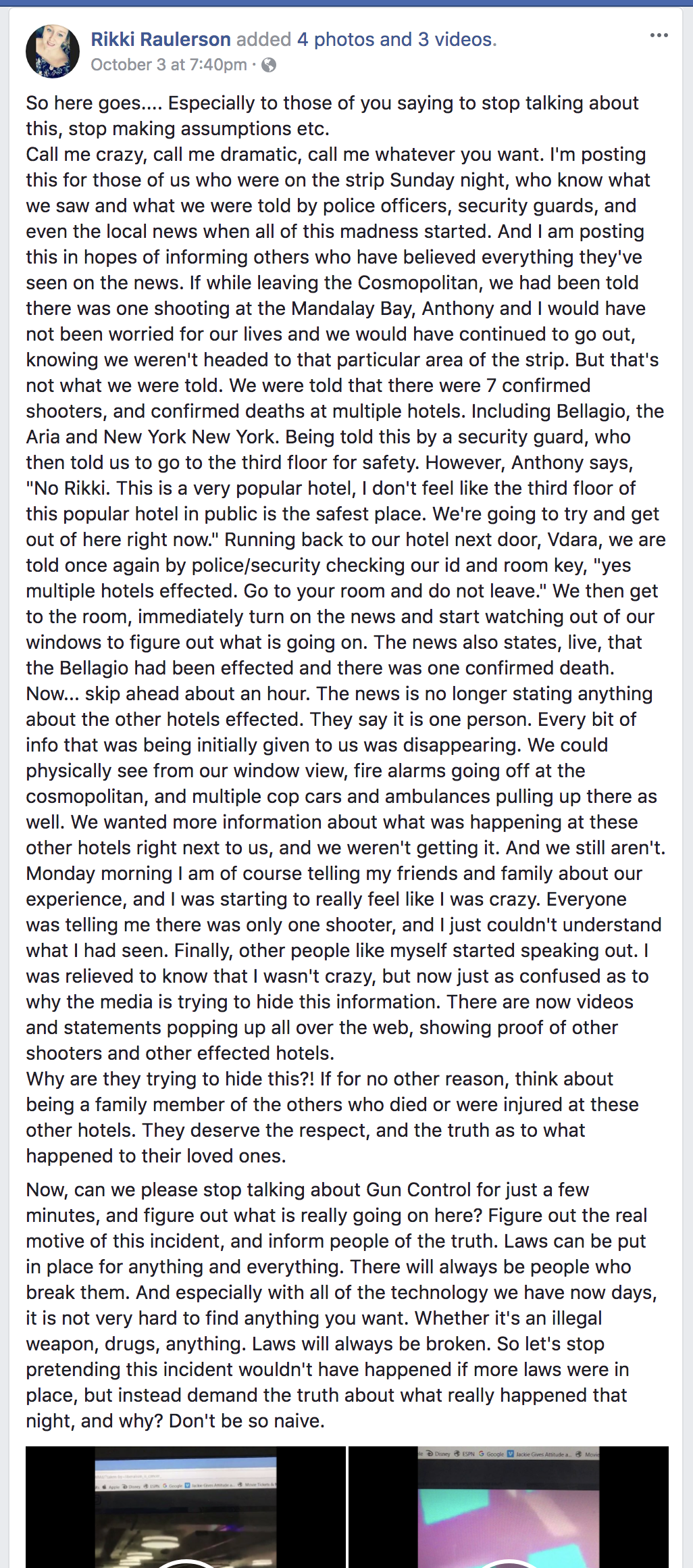 Evidence #8
Evidence #1 Appears to Be On Point with Predictions:
   On Oct. 5, the micro-doc "Eerie Predictions from Vegas", by Truthstream Media, was uploaded via You Won't See This On TV, which further analyzes the above information, while also foreshadowing how U.S. Homeland Security Agency's National Infrastructure Advisory Council member James Murren, who is also the Chairman and Chief Executive Officer of MGM Resorts International 

(see Evidence #6)

 fits into the equation:
Evidence #9
Bellagio Casino Guests & Security Claim Shooters Present in Casino:
      In this video, posted Oct. 4 by The People's Voice, the woman narrating provides firsthand testimony and video evidence from within the Bellagio Casino that there were shootings in the lobby, & that guests were on lockdown in a particular area of the casino.  A security guard confirms that "what is being shown on television is not accurate" and that a shooting did also occur inside the Bellagio:
Evidence #7
3 Contradictory, Suspicious Interviews w/ Brother:
     This first interview with Steven Paddock's brother Eric (posted by Tony's – 24/7 Eyes on October 2) has sections which contradict sections within the second interview which occurred the following day,  During this first interview:
At 1:55 the reporter asks him "

If he had a military background,

" at which time he responds, "

No, and I don't want to talk much more.

"
 Evidence #10
Detailed Testimony of "4-5 Shooters" from a Survivor: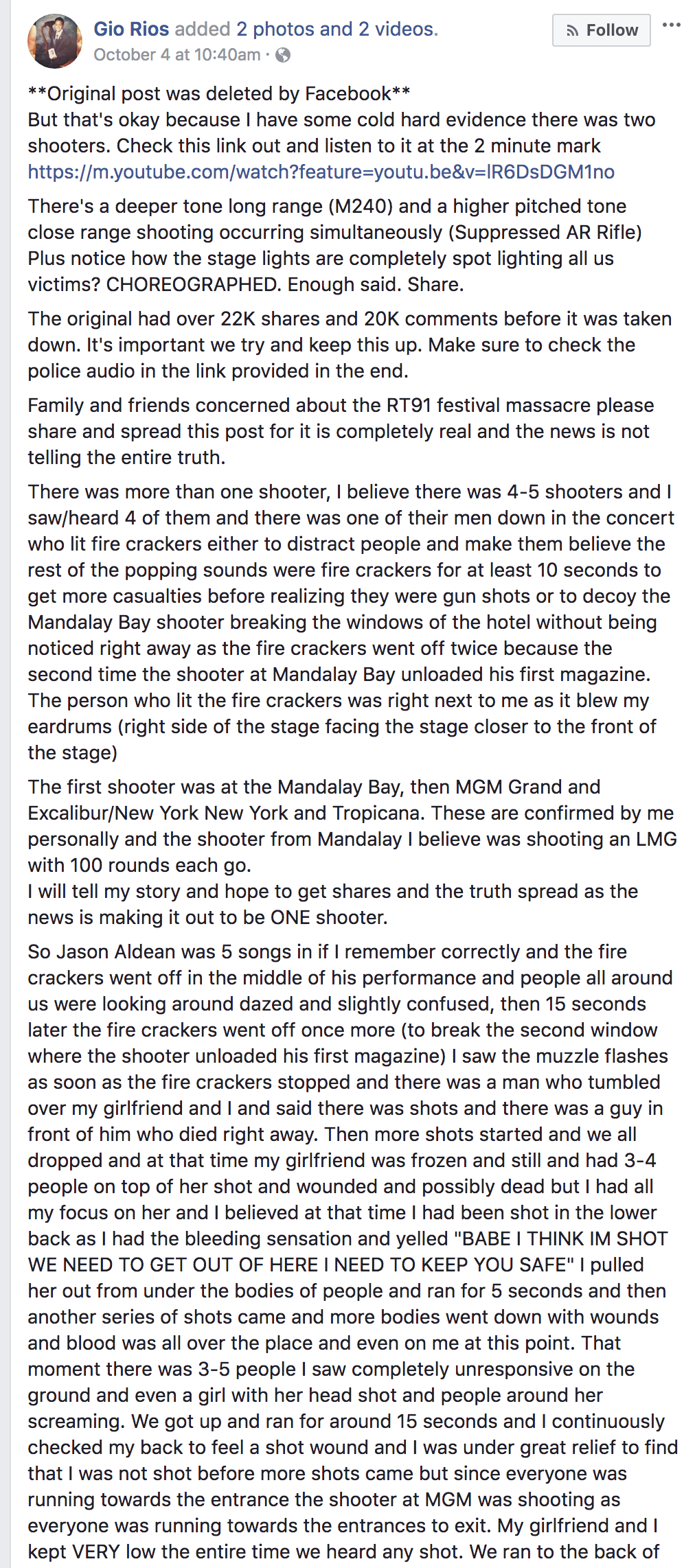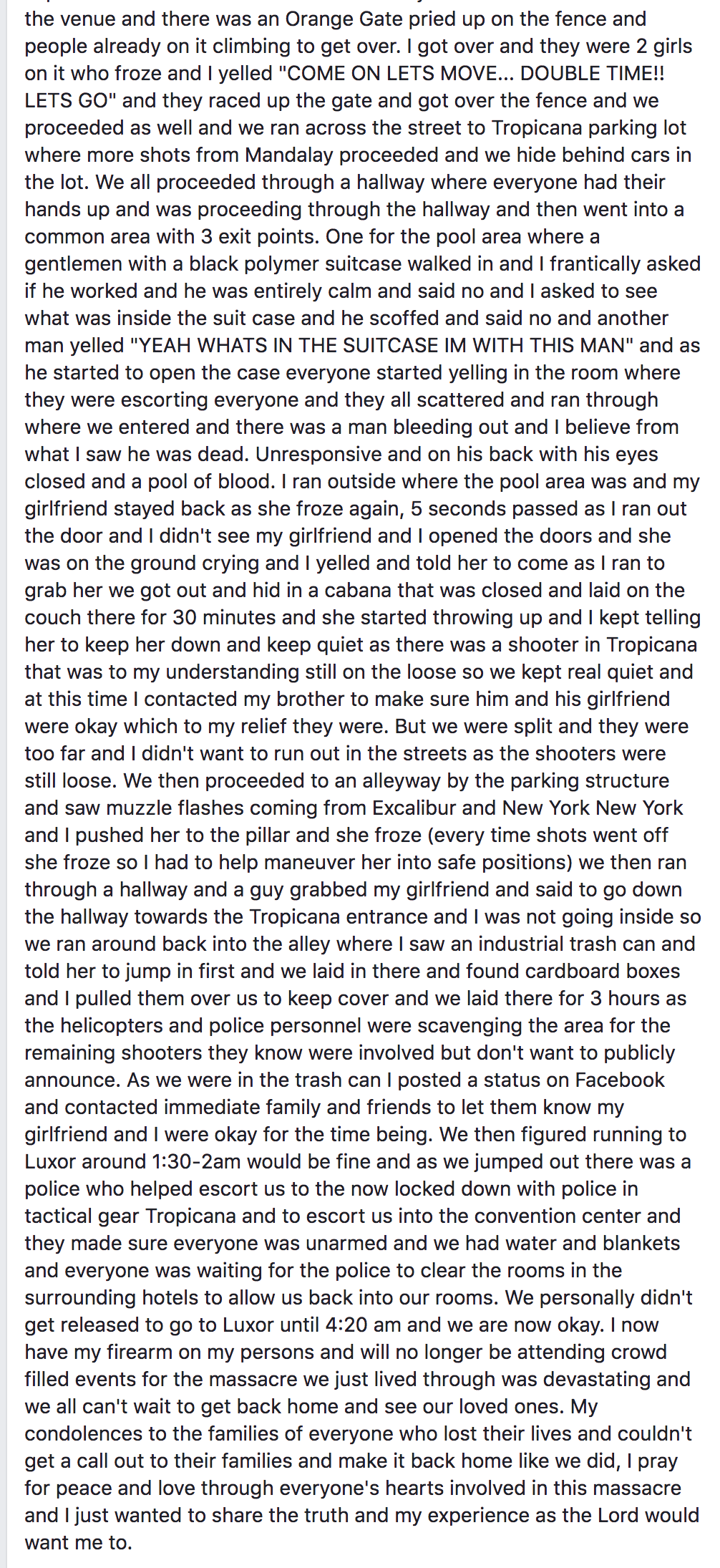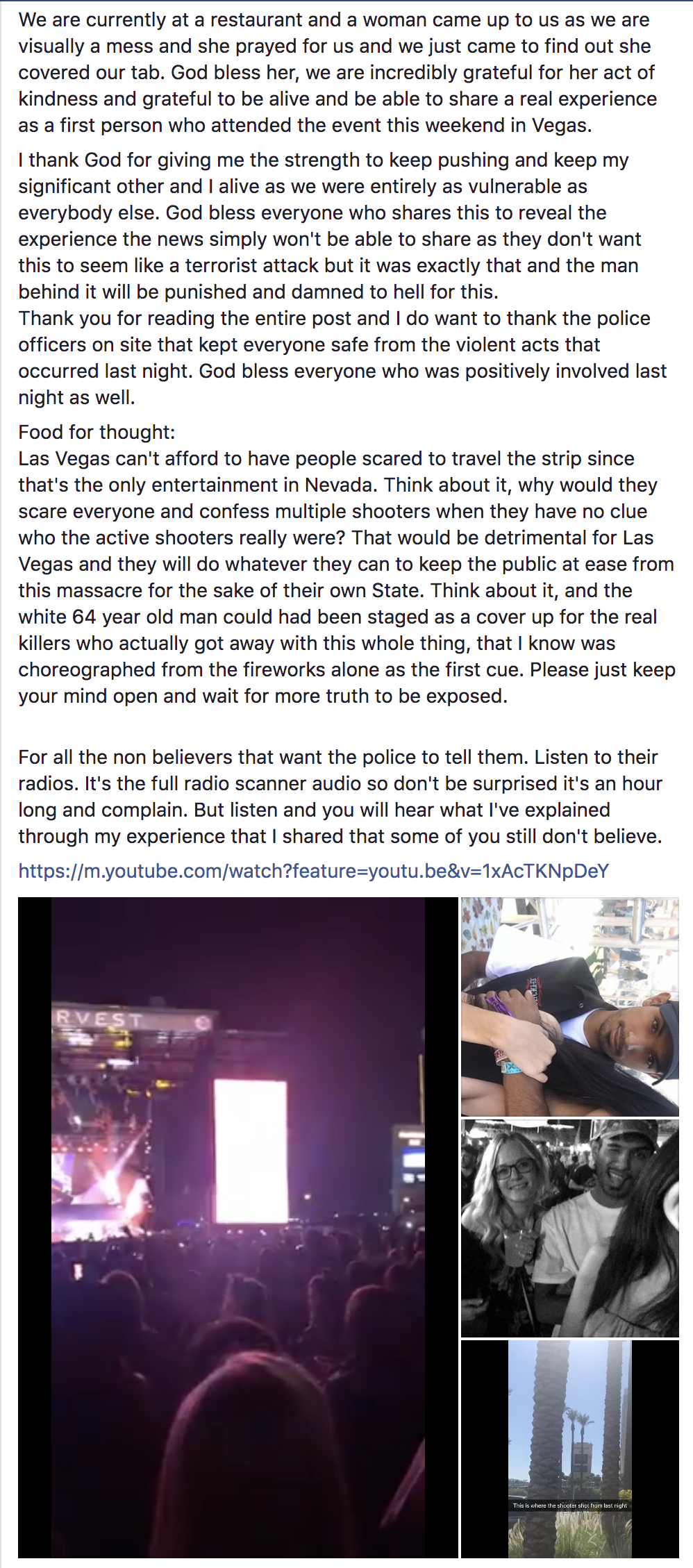 Evidence #11
More Video Evidence of Multiple Gunmen:
     At 3:42 there is audio evidence of more than one gunman:
Evidence #12
Police Scanner & Injured Victim Claim Multiple Shooters:
      The following audio of the Las Vegas Metropolitan Police Scanner is found inside the Oct. 6 article by Neon Nettle, "Las Vegas Shooting Victim: 'I Was Shot by a Gunman in the Crowd" by Jay Greenberg.  In the article, Rocky Palermo claims to have been shot by a gunman who was "In the crowd" & that there were "3-5 active shooters in the crowd".  Audio of police scanner features:
At 0:39, "

We have an active shooter.  We have an active shooter inside the fairgrounds.

"

At 0:55, "

Gate 7.  Gate 7.  Shots are coming from Gate 7.

"

At 5:11, "

We just spoke with security at Mandalay Bay.  They're saying they had shots fired on 29 and 32nd levels.

"
Evidence #13
News Media Claims Paddock "Checked Out Multiple Hotel Rooms":
     On October 4 ABC News claims that Paddock "

Possibly checked into multiple hotels before the attack

": 
Evidence #14
Reported Shooting at Caesar's Palace: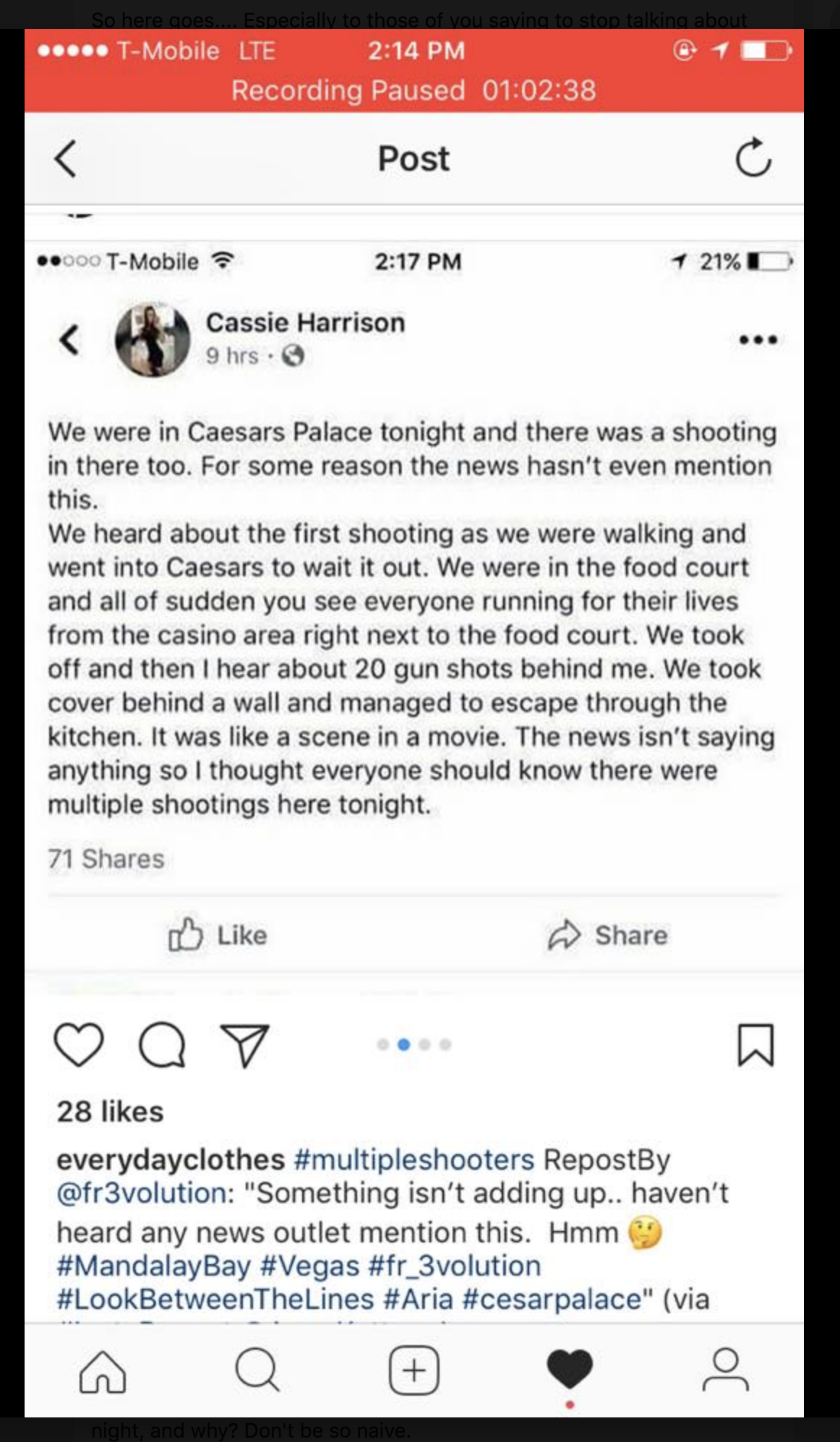 Evidence #15
More Than 2 Windows Shot Out of Mandalay Bay:
— Rosie Unmasked (@almostjingo) October 3, 2017
Evidence #16
Woman Warned of Attack Ahead of Time:
     In an interview with KSNV News 3, a 21-year-old concertgoer named "Briona" says about 45 minutes before shooting started an unidentified woman told people "You're all gonna die…"
Evidence #17
Additional Implication of MGM's Involvement:
     On August 23, 2016, an article by Las Vegas Review Journal entitled "
MGM's CEO risks angering many of his customers
" by Wayne Allyn Root wrote "

with his latest political gambit, 
James Murren
, CEO of MGM Resorts International

(and 
U.S. Homeland Security Agency's National Infrastructure Advisory Council member 

and

owner of the 
Aria and New York New York casinos where shooters were also reported)
, has violated the trust of his board, shareholders, employees and customers.  And not in a small way. In a "Vegas bigger-than-life way."
     In response to what he sees as the racism, bigotry, intolerance and violence in the wake of Charlottesville, Murren announced last week that MGM will match employee contributions to a collection of groups that include extreme leftist organizations and Muslim advocacy outfits.
     Murren is so wildly wrong, so spectacularly reckless, so disastrously offensive to many of his customers, I believe it's time for a shareholder revolt.
     Not because of his personal views.  I don't care about them . It's a free country.  But no CEO should involve his company in controversial politics, let alone the funding of extreme and radical organizations.  Murren has just put MGM in bed with an organization that has ties to Islamic terrorism.
Notice:
The article is referencing the fact that CAIR has been implicated by the FBI in funding Hamas.
     The groups include the Southern Poverty Law Center, which conservatives have accused of "character assassination."  The center lists many mainstream conservative organizations as "hate groups."  I'm sure millions of MGM customers support these groups.  The center lists Americans who have questioned or criticized radical Islam as being part of "hate groups."…
     Is this a group MGM's board or shareholders want to be tied to?
It gets worse. Murren announced that MGM would match employee donations to the Council on American Islamic Relations. This outfit was named by the Justice Department as "an unindicted co-conspirator" to Muslim terrorism. The group has been linked to Hamas. In addition, CAIR advises Muslims not to cooperate with the FBI.
Evidence #18
2nd Video of Above Key Witness Surfaces, "Crisis Actors" Come into Question:
     To people with a strong sense of morality— who have a sense for discerning between "right" from "wrong" or "good" from "bad", it is unfathomable to think of how anyone could display the absolute nihilism involved in murdering people.  However, upon knowing that this type of disregard for life does exist, it becomes easier to acknowledge that this type of nihilism exists in many forms unfortunately.  On October 4, the following video was posted by the group ELITE Enslave US, which depicts the woman in the interview in Evidence #4 on an episode of Dr. Phil about "Narcissists" & how they operate.  Evidence appears to indicate that during this very real, atrocious event, a small number of "crisis actors" may have been involved in some way.  This video has been mashed up back to back with a video application of a man who is trying out to become an employee as a "Crisis Actor".
Evidence #18
Crowds On Demand Recruited Crisis Actors for Las Vegas Event:
Evidence #19
2nd Leak Provides Seemingly Opposing Motive:
     Oct. 3 a second leak was released via 8chan.  This leak appears to be a diversion to distract from the initial leak, as they do not seem to align with one another:

Evidence #20
Video Footage of Steven Paddock Surfaces:
     Here is a video submission of a gambler by the twitter user name of @YouFold2Me who claims he saw Stephan Paddock and girlfriend gambling in across the table from him in Atlantic City, NJ on October 6.  You will notice that the unique brow, nose, shape of mouth, & hairline appear identical.  This may indicate that the photos released of Paddock's body may be a body double.  After all, MGM International is certainly capable of performing high-quality productions.

Evidence #21
3 Contradictory, Suspicious Interviews w/ Brother:
     This first interview with Steven Paddock's brother Eric (posted by Tony's – 24/7 Eyes on October 2) has sections which contradict sections within the second interview which occurred the following day,  During this first interview:
At 1:55 the reporter asks him "

If he had a military background,

" at which time he responds, "

No, and I don't want to talk much more.

"
     In this next Oct. 2 interview by KTVU News:
 At 3:36 he refuses to explain "

what type of business they were in together

".

He also states that "

(Steven's) life is an open book.  Its all in the public record.

"

He states: "

Find out where he got the machine guns from. You'll find out. He had a couple of guns but they were all handgun – legal – I mean he might have had one long gun but he had 'em in a safe. He had no machine guns. I moved his house.

"
     In this third October 3 interview by CBS News:
At 2:40 he states that the family "

is wealthy

".  It was "

no big deal

" that Steve had transferred $100,000 days before the shooting because "

we are wealthy people

".  "

I guess everybody thinks that everybody works at Taco Bell or something.

"

At 3:32 he states that Steve "

has the highest level of membership card at a lot of these hotels.  If these hotels say they don't know Steve, 

they're lying.

"

At 6:00 he states that he is "

100% sure that Steve did this by himself.

"

At 10:27 he states that "Steve has multiple houses."

At 14:50, he states, "People say he must have had help.  Steve had no help.  Steve didn't take help.  It did not take a village for Steve.  Steve was an arm…"  then he pauses, looks at camera, then states: "I'm sorry.  Please… don't… colloquial was about to use a term that would besmudge one of the armed forces.  Steve… was… a… 

stand-alone guy.

"
Evidence #22
Google & Youtube Suppressing "Las Vegas Conspiracy" Searches:
     YouTube, owned by Google, is the America's second most popular search engine, right after Google.  Google has not directed YouTube to manipulate the video channel's search results to suppress videos asserting that the Las Vegas terrorist attack is a false flag operation.
     "

YouTube recently surfaced videos peddling misinformation, hateful messages and conspiracy theories to users searching about mainstream news events—problems that caused the site to change its search results to promote more authoritative sources.
     In response to criticism of some search results on social media this week, YouTube is accelerating the rollout of planned changes to its search engine. On Oct 3 night, the company began promoting more authoritative sources in search results, especially for those about major news events. YouTube doesn't disclose how it determines which sources are authoritative.
"
Questions:
     Which other rooms did Paddock check out, & at which hotels?  See Evidence #9.
References:
[1]:  4chan screenshot:  Reddit, "4chan":  https://www.reddit.com/r/4chan/comments/73vd55/anon_predicted_the_las_vegas_happening_link_in/ OSI systems chertoff
[2]:  Primack, Dan (December 16, 2015). "Yes, Sheldon Adelson Bought The Las Vegas Review-Journal". Fortune. Retrieved December 16, 2015.
[3]: Profile, NewYorker.com, June 30, 2008:  https://www.newyorker.com/magazine/2008/06/30/the-brass-ring
[4]: Profile, Politico.com; accessed September 16, 2015: http://www.politico.com/story/2012/09/sheldon-adelson-inside-the-mind-of-the-mega-donor-081588
[5]:  Sheldon Adelson to give $25m boost to Trump Super Pac Peter Stone in Washington Friday 23 September 2016, Guardian